FAQS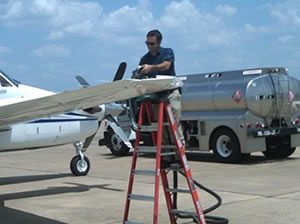 General Airport Information
Aircraft Rental Information
Flight School Information
General Airport Information
Q: Where is the airport located?
West Houston Airport is located 15 miles west of Houston, Texas, just north of Interstate 10, between Highway 6 and Barker Cypress. See maps.
Q: What are the hours of operation?
Airport operations, including runways, taxiways, terminal facilities, full service fuel, and hangar services, are available 24 hours a day, 365 days a year.
Q: What pilot facilities are available at the main terminal?
Spacious and comfortable seating for arriving and departing passengers
Pilots' lounge with big screen TV and sofa seating
Large flight planning room with 24 hour internet service, weather channel TV, Meteorlogical weather service, current charts for reference, and telephones
Private conference room
Pilot supplies
Kitchen facilities
Well lit, secured, close proximity parking
Limousine service
Rental car
Complimentary coffee/ice/popcorn
Courtesy vehicle
3-D Cinema room
Zero gravity massage chairs in pilot lounge
3-D Big screen TVs
Wi-Fi
Charging stations
Q: What aircraft services are available?
24 hour full service fuel
100 LL
Jet-A Premixed
Well lit, secure, overnight terminal area parking with tie downs
Overnight covered parking
Overnight hangers
Q: What other aircraft facilities are available on the field?
Calkins Aero (Maintenance) 281-579-6674
General Avionics 281-647-9600
Sky Aircraft Interior 281-682-4454
Q: Are courtesy cars available?
Yes. West Houston maintains a fleet of courtesy vehicles for airport customers. These vehicles are available on a first-come-first-serve basis, with a 2-3 hour limit. Current valid driver's license and major credit card required for proof of financial responsibility.
Yes. Compact and mid-size are available at the main terminal for airport customers. Reservations can be made by contacting West Houston Customer Service at 281-492-2130. Current valid driver's license and major credit card required.
Aircraft Rental Information
Q: What are the general requirements for aircraft rental?
The minimum requirements FOR ANY RENTAL at West Houston are:
Renter Pilot Agreement / Data Card (Form 1)
Disclaimer & Release (Form FS-1999-1)
Student & Renter Pilot Policy Rules & Regulations
Copy Of Pilot's License / Student Pilot Permit
Copy Of Valid Medical Certificate
Copy Of Driver's License (Texas Required)
Copy Of Valid Major Credit Card
Avemco Insurance Certificate
* Special Requirements since 9/11 must be met for flight training.
Q: What aircraft are available for rental?
The full flight school fleet listing can be viewed at Aircraft Rental.
Q: What are the requirements for each type of aircraft?
The rental requirements for each aircraft can be found at Aircraft Rental.
Q: What are the minimum (hourly) requirements?
The minimum rental requirements are one-half hour minimum rental per flight, and three hour minimum rental per 24 hours that the aircraft is kept.
Q: When is payment due for aircraft rental?
Flights completed within the same day require payment at the end of each flight. On flights exceeding 24 hours, a deposit for the full estimated time is due at the time of reservation.
Flight School Information
Q: Where is the flight school located?
The flight school is located within the main terminal of West Houston Airport. Flight and weather briefings as well as aircraft dispatching is completed on the ground floor, while individual and classroom instruction take place on the second floor.
Q: How long has the training facility been in business?
West Houston Airport's Flight School has been in business at the same location since 1967.
Q: What experience do the owners and operators have?
Woody Lesikar, the Director of Aviation at West Houston Airport, is an ATP (Airline Transport Pilot), type rated in a Cessna Citation, an Advanced and Instrument Ground Instructor, and a "Gold Seal" Flight Instructor with Single, Multi-engine, land and sea, Glider, and Instrument ratings. Mr. Lesikar is also a licensed A&P mechanic and has over 14,000 hours of logged flight time. Mr. Lesikar started the company in 1967 at West Houston Airport. He is a recipient of the Wright Brothers Master Pilot Award and the George Palmer Putnam Award in 2016.
Q: How many instructors are on staff?
West Houston Flight School maintains an adequate number of flight instructors on its staff.
Q: What qualifications do West Houston Airport Flight Instructors hold?
Each Certified Flight Instructor is qualified to teach in aircraft utilized by the Flight Department. They are experienced pilots with the latest knowledge of FAA regulations and new technology in the ever changing aviation industry. Each is professional in their attitude and appearance and is an enthusiastic representative employee of West Houston Airport. Other Flight Schools utilize instructors as independent contractors exposing themselves and their students to liability and lawsuits for accidents and injury to persons and properties. This is not the case at West Houston Airport.
Q: Do you offer an introductory (Discovery) flight?
Yes. West Houston's Introductory or "Discovery" flight begins with a viewing of the 30 minute video "So You Want To Learn How To Fly." The student pilot, together with an FAA approved, professional flight instructor will then complete a comprehensive "preflight" inspection of the aircraft (a new Model Cessna 172S), and then take to the skies for a 30 minute flight in the local area. During this flight, the student pilot will actually operate the controls and fly the plane. The flight will be followed by a post flight "debriefing" and completion of the first entry in the student pilot's logbook. This flight is the first half-hour of required dual flight instruction toward the Private Pilot's License.
Q: How much does the introductory (Discovery) flight cost?
The cost of the "Discovery Flight" is $169.00, including all charges, taxes, and fees.
Q: How do I schedule an introductory (Discovery) flight?
The "Discovery" flight can be scheduled any day of the week from 8:00 am to 8:00 pm by contacting a Customer Service Representative at 281-492-2130. Typically, one hour of time will be allocated to the pilot and aircraft. It is recommended to arrive 45-60 minutes prior to the flight to watch the video, meet the instructor pilot, and become familiar with the flight school procedures. Discovery flights are best taken during most of the seasons early in the mornings due to the probability of smoother air and cooler temperatures.
Q: How do I get started with flying lessons?
The "Discovery Flight" described above is a great way to get started. Following that flight, lessons can be scheduled in person or by calling our Customer Service Desk at 281-492-2130. Flight and ground instruction is available seven days a week and is limited only by the scheduling of the student pilot, instructor pilot and aircraft. When scheduling a flight lesson, the typical time blocked is for two hours, which provides enough time to meet with the instructor, preflight the aircraft, complete a 1 to 1.5 hour flight lesson, secure the aircraft, and debrief with the instructor.
No, a formal classroom-type ground school is not required, however, the open discussions and interaction with other students is often a very beneficial supplement to individual instructor and book learning. Such a class is designed to help the student prepare for the knowledge based skills needed in his flight training as well as the FAA written exam.
Q: Is a Private Pilot Ground School Class available at West Houston? When?
The Private Pilot Ground School is taught every Monday night from 7:00 pm to 10:00 pm at the main terminal. The full class is twelve weeks long and while it may be desirable to begin the series of classes at the beginning, each class can be taken individually for review or clarification of a specific topic. For more information, see Private Pilot Ground School.
Q: What type aircraft are utilized in the Flight School at West Houston Airport?
We use late model, IFR equipped Cessna, aircraft including a glass cockpit option the Technology Advanced Aircraft. Each aircraft is inspected every 50 and 100 hours for airworthiness while all maintenance operations are tracked via computer. Certain models may not be available. To view the entire fleet, see Aircraft Rental.
Q: How long should it take to receive a Private Pilot's License?
The time required to obtain a private pilot's license depends greatly on variables such as frequency of flight, previous aviation experience, speed of learning, and weather. Typically, flying 2-3 times per week, one hour per lesson, combined with occasional unplanned delays, and days off for ground training might take 4-6 months from start to license. Again, these times are general and your training time may be more or less.
Q: How much will it cost to receive a Private Pilot's License?
The cost for obtaining your private pilot's license can vary greatly, depending on many variables. These include the type of plane chosen to fly, previous experience in aviation, and the student's ability to learn and master the required skills. Other less predictable variables include weather and/or scheduling conflicts. In general, a private pilot's license is going to require an average of 45-55 hours of flight time, with 25-35 of that being dual time with a flight instructor, and the balance being solo time.
Q: Is payment required in advance?
No, payment is not required in advance. Payment can be made flight by flight, by means of cash, check, or major credit card. For convenience and speed in processing, deposits for any amount can be applied to an account and the account debited upon completion of each lesson.
Q: Is there a written exam required for a Private Pilot's License?
Yes, successful completion of an FAA written exam is required prior to taking the final check ride. The West Houston Ground School class helps prepare for this exam, as does many other text books and study guides which are also available at West Houston Airport. The exam is taken electronically though any FAA approved testing center.
Q: What other aeronautical ratings are offered at West Houston?
Flight instruction at West Houston includes training for the Private Pilot, Instrument Rating, Commercial Pilot, Multi-Engine Rating, Certified Flight Instructor (CFI), Certified Instrument Flight Instructor (CFII), and Airline Transport Pilot.
Q: Who maintains the aircraft used for training?
Only licensed airframe and power plant mechanics or FAA Approved Repair Stations work on West Houston Airport's planes. Maintenance records are readily available to students at any time for inspection and training purposes.
Q: What days are the flight department open?
West Houston Airport is open every day. The Flight Department is open at 8:00 A.M. Planes are available at any time the weather is suitable.
Q: Is it convenient and easy to schedule your training flights?
West Houston Airport's Flight School utilizes an online scheduling system which is easy and user friendly. In most cases immediately following each lesson, your flight instructor will schedule your next lesson at the online terminal at the Airport. However, flights can also be scheduled online from your computer at your convenience.